28th August 09

Kiss and Tell - He likes Plums?

Here are some VMA Promo links for US and UK

A Poll of who Russell should take on this year! ;)


The VMA's for UK & Ireland Fans

Showing on MTV1

Monday Sept 14th @ 9pm - 11pm
Tuesday Sept 15th @ 10am - 12pm
Tuesday Sept 15th @ 9pm - 11pm

Credit: Mrs. Harisson


Check the Sexy Extras section for Famous Admirers!
---
27th August 09
Russell Brand's Royal Plan - little news piece

---
26th August 09
Britney and Russell play head games
The Mirror - Russell's singing debut with Katie Perry
---
News of 25th August 2009
We're back in action! Getting our new fansite team in order as we speak.
I'll just leave you with this excellent video promo of the Mtv's VMA's - Russell is hosting this year! Here you can see whhhhhy!
---
20 March 2009
Ah yes...it's been a while now hasn't it well it will be updated from time to time now. Keep and eye on twitter!
Newspaper Interviews

Russell Would Play Paul Keating - The Daily Telegraph Oz (plus pics)

How to Seduce a Girl in 60mins - Mail Online (wonderful photographes)
My Booky Wook Review America - EW.com
Av Interview

Video Interviews/Clips
Russell on Nova Radio Australia (you may need to pick them from a list of videos on that page)
Russell on David Letterman

Russell Brand in the bath!
Today Show Interview Australia
Russell on The Chelsea Lately Show (USA)
Hamish & Andy - Ping Pong Video!
7 Things You Didn't Know About Russell Brand
A Day in the Life of Russell Brand Interview
Interview with Howard Stern (audio only)
---
12 July 2008
Q Magazine
Russell was featured on the front cover of Q Magazine this month. An 8 page feature!
Excellent photoshoot and a wonderful interview!
Click here to see

Richard & Judy
Russell was on Richard and Judy yesterday evening.
Click here to download the interview (note: large file)

Click here to view some screencaps (scroll down a bit)
---
10 May 2008
T4 Interview
Click here to watch an amusing interview with Russell and Steve!
---
9 May 2008
Russell on Late Show with David Letterman, CBS

On the 15th May, should be nice for you all you American fans to check him oot!
http://www.interbridge.com/lineups.html)

Bed time Stories

More infor on Russell's upcoming film with Adam Sandler
Plot: A family comedy about a guy (Adam Sandler) whose life changes when the lavish bedtime stories
he tells his nephews start to magically come true.

Release Dates:
UK: 26 December 2008
USA: 25 December 2008
Germany: 25 December 2008
Belgium: 21 January 2009
Netherlands: 15 January 2009
Links for info:

http://www.comingsoon.net/films.php?id=20902

http://www.variety.com/article/VR1117962441.html?categoryid=13&cs=1

http://www.imdb.com/title/tt0960731/

Interview
---
2 May 2008
Empire Magazine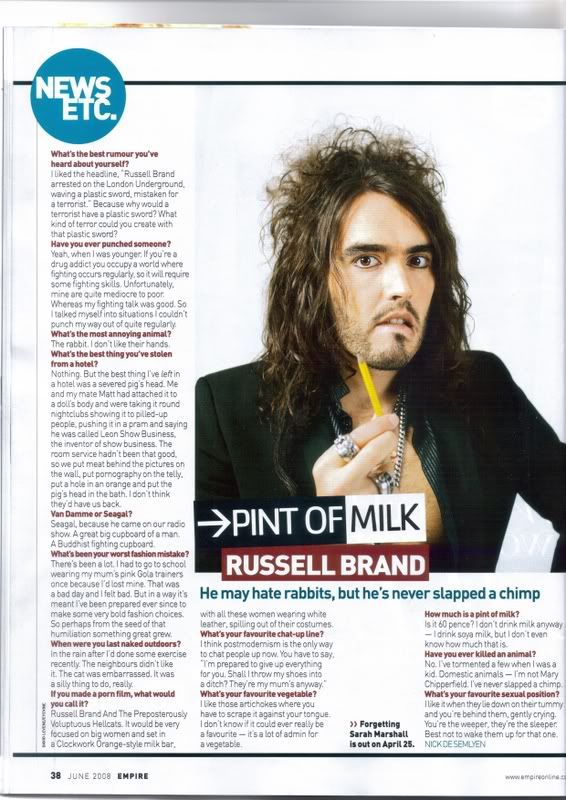 ---
1 May 2008
The Monthly Updates (apoligies)
Movies............
FSM: Russell's new movie Forgetting Sarah Marshall was a box office hit, reaching number 1
in the UK/USA/Australia! He has been so many interviews regarding it so just type
into YouTube and you'll find them all there's not much point listing them! (we'd be here all day)

Bedtime Stories: Russell's new disney movie with Adam Sandler, he plays a guy called Mickey!
It should be out around Christmas we think!
My Filmy Wilmy: It is indeed true that a film will be made of My Booky Wook, Russell starring himself no doubt.
Hopefully there will be more news about this to come.
Interviews
Click here to listen to an interview with Russ on BBC Radio 2

Stand-up
Russell is scheduled to play the Montreal Just for Laughs festival on Jul 17th/18th/19th this year.
Click here to go to the festivals website to reserve tickets.

The Mags

"Russ 'Brands' nudity daunting" - click here
"A New Brand of Comedy" - The Surrey Advisor - click here
Russell in Heat Magazine click here to view scans

Apoligies for lack of updates, will be keeping you up to date of course.
---
2 April 2007
Russell's First American Article in Metromix LA.
Click here to read, it's rather fabulous.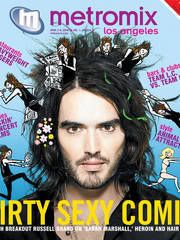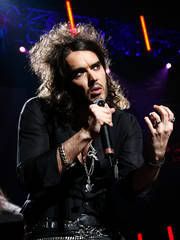 The Official Infant Sorrow Video for "We Gotta Do Something"

Click here to download, thanks to Solemente Uno ;)
Voilá
Infant Sorrow Mentioned on Ediths show R1!
The campaign was mentioned today on her radio show to get him to No.1!
If you want to listen again it was at about 14.40. She has a whole feature on her movie blogs about it.
Click here to see

Star Magazine
---
28 March 2008
The Sun backs Infants Sorrow!
The Sun are officially backing us on the campaign to get Russell's song "Inside of You" to No.1!!
Click here to see the article.
The release date for The Forgetting Sarah Marshall soundtrack is 21st April, so get your skates on and start requesting
"Inside of You" on all your local radio stations and DJ's.

---
24 March 2008
A Tour!!

Russell mentioned at his gig last night that there is a possibility of a tour later on in the year! Keep your eyes peeled everyone!
---
23 March 2008
Newsflash! First Report from Pleasance Gig!
Russell peformed an intimate gig at The Pleasance tonight.
"Russell was very happy and very relaxed, which made it a spellbindingly beautiful gig.

Some of it was selecting material for the live LA gig and for the Leno and Letterman TV appearances.

But mostly he just talked, uncensored by the usual concerns about audience and remit.

It's also important to mention that the spot on his forehead DID have a bigger personality than him.

And he knows the forum folk love him. Even if we're the mental wing of the IRA. "
Thanks to Doll Subtle and for this pic also - and exlcusive!!!
---
23 March 2008
Infant Sorrow
As some of you may know Russell is playing the character of Aldous Snow the rock star in Forgetting Sarah Marshall
and his band is called Infant Sorrow in it. So now you get to hear lovely Russ sing his heart out with such ballads
like "Inside of You" as you may have seen on the home page.
On the forum The Coterie have organised a campaign to try and get "Inside of You" to No.1 in the charts, but they'll need your help.
Here is the campaign website - http://www.insideofyoufornumber1.com/
Here's the myspace page so you can listen to the songs - http://www.myspace.com/officialinfantsorrow
---
16 March 2008
New Forgetting Sarah Marshall under "Shows & Stuff" has all you need to about the film, links to interviews and videos.
Go take a gander.
---
15 March 2008
My Booky Wook nominated for British Book Awards!
Russell's autobiography, My Booky Wook, has been nominated in the Best Biography
category of the 'Nibbies' - the Oscar's of the book trade.

He's up against Alastair Campbell's The Blair Years; Spilling the Beans by Clarissa Dickson-Wright;
Richard Hammond's On the Edge; and Agent Zigzag by Ben MacIntyre.
Click here to vote

Another Booky Wook!
Hodder has signed a new book from Russell Brand, to be released in time for Christmas this year.

According to Hodder, the book can loosely be described as "Russell's rantings".
It will comprise new material from Brand, with ruminations on some of his
favourite subjects including "football, sex and the school rabbit"
My Booky Wook Screenplay!
It is also known that they might be turning this never ending talked about book into a film!
How terribly exciting eh?

Downloads
First batch:
Russell on Almost Famous - a clip of him in The Bill 1994
St. Trinians footage, and red carpet
Click here to download
Second batch:
This folder download contains interviews and footage of Russell that
have been found online while he's been in America.
Click here to download


---
9 March 2008
Forgetting Sarah Marshall
Russell's new movie will be out on 25th April in UK and 18th April in US!
For all the info you could possibly want on Russell's appearances/interviews/articles related to the movie
Click here
---
11 February 2008
New Gallery
Flattering Photos are back with a new gallery. New photos will be added regularly to bring it back up to date, so keep checking back.
So far we have photos from:
On the road with Russell Brand
The Dawn French Interview
DVD extras
Nosey Parker Interview

An inteview with Russell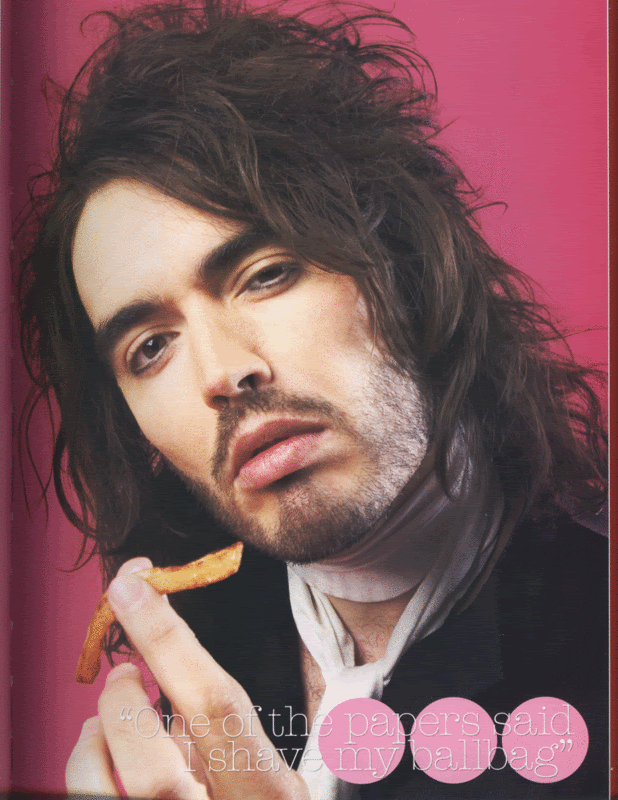 ---
5 February 2007
Fabulous!
Russell is now featured in the News of the Worlds new mag Fabulous.
Click here to read
Ooooh my! *blushes*

The uncut red band version of the Forgetting Sarah Marshall trailer is now been seen. You might get a peak of that legedary sex scene
Russell always spoke about.
---
2 February 2008
Penelope

Just to let those who are unaware, Russell has tiny appearance in the new movie Penelope.
Not a main part, just a minute or two if even I think.


---
29 January 2008
NME Awards
Russell is up for an award in this years show for Best Radio Show.
Click here to vote for Russ and help him get what he deserves!

Downloads
Comedy Live Presents - The show Russell presented last week with stand-up material
Click here to download
---
28 January 2008
New Avatars
Not all of the new ones are here, just a sneak peak. Go to "Sexy Extras" to see them all!! Even better they are!






Downloads
From Russell's Radio Show - Islands in the Stream
Click here to download
Guardian Article
Click here to read Russell's latest football column
Tv Update
31 January
Ponderland E4 23:05 - 23.35
Repeat of first episode of Ponderland. Russell Brand delivers his thoughts on the world around him.
Tonight, Brand focuses on childhood and adolescence

The Russell Brand Show E4 23:35 - 00.30
Repeat of the Russell Brand Show for those who might have missed it first time round. Russell Brand
hosts a series of late-night lounge club shows, featuring celebrity interviews, comedy sketches, topical chat
and live music performances. Tonight's guests include Matt Lucas and David Walliams.

02 February
The Russell Brand Show E4 02.20 - 03.15
Repeat of the above show with Matt Lucas and David Walliams.
---
21 January 2008
New Avatars
Please Do Not link directly from this site, it's most important that you don't, it could cos the fansite to pass out with stress.






---
10 January 2008
Podcast Wins Awards!
Russell's BBC Radio 2 show wins a .Net Award for their fabulous podcast that is available to download via iTunes.
Click here to read more
Russell Ringtones!
Want Russell to inform that you got a message hmmmm? (how terribly manipulative)
Anyway, a wonderful fan Solemente Uno has put to get a little pack of ringtones you can download.
They include his famous sayings like "Pin Pin" "Pinch my Skin" "Eat your Fudge" and "Ballbags.."
Click here to download

Avatars
I am adding a new section of the site of extras and fun schtuff essentially. Where you can help yourself to avatars,
signature pics and icons of sexellent Russell.
---
8 January 2008
Celebrity Hijacker
Russell will be doing Big Brother Celebrity Hijacker today in the house. So you will most probably be able to see
him on the highlights tommorow night and possibly on BBLB so keep an I out!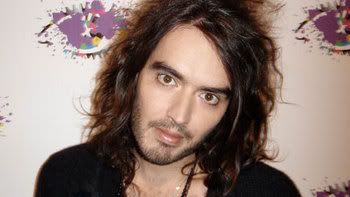 ---
23 December 2007
Relative Values - The Times Online
A touching and amazingly honest interview with Russell and his wonderful Mum, Barbara.
Click here to read
---
22 December 2007
Russell's Interview with the Spice Girls
Click here to download
Russell is flying over to America in February to take in Morrisseys new Music Video
---
21 December 2007
Click here to see the Trailer for Forgetting Sarah Marshall
Click here to see some more screencaps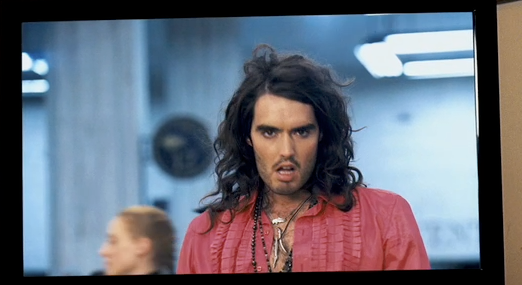 ---
20 December 2007
Tv Appearances Update
22 December
Russell Brand Meets the Spice Girls BBCR2 15.00 - 16.00
The full line up of Spice Girls chat to Russell
25 December
Robbie The Reindeer BBC1 14.30
Russell will be voicing one of the reindeer characters
26 December
The Graham Norton Christmas Show BBC2 22.00-23.00
Chat show featuring celebrities, live music and fabulous weirdness from the great British public. Christopher Biggins,
Barbara Windsor, Russell Brand and Lorraine Kelly are guests and there is music from the Feeling.

Big Fat Quiz of The Year C4 21.00 - 23.05
01 January
Not sure of title yet BBC3 22.40 - 23.40
Alex Zane introduces clips of some of the early embarrassing moments in many a celebrity's fledgling career,
including Simon Cowell, Pete Doherty, the Spice Girls, Ant and Dec, Britney Spears, Russell Brand,
Dannii Minogue, Peter Kay and many more



New Downloads
Little Snippets of Russell in the show White Teeth as Merlin the hippy. Thanks to Solemente Uno!
click here to download
ITV's Kenny Everetts Licence to Laugh & T4's Special of St.Trinians Premier together.
Click here to download
Russell Brand on The Road
Part 1
Part 2
Clip of Russell on the Xtra Factor
Click here to download
Russell on Richard and Judy
Click here to download
---
11 December 2007
The New Official Name of Russell Brand Fans are
Russell's Coterie!
This has been approved by the man himself when he signed a members book as a message to the Fansite. Russfan101
---
10 December 2007
Click here to see some photos of Russell at the St. Trinians Premier
Forgetting Sarah Marshall
Has now been changed to "Dumped" next Summer '08

Interview In Bizaare
Click here to read

Russell at the Royal Variety Performance
click here to download (make sure to save as .avi file)
---
9 December 2007
The Culture Show

Russell is featured on The Culture Show
Click here to download
---
8 December 2007
Russell on Loose Women
Here's a clip when Russell made a surprise visit on the show. Very loose indeed mmmm nyes


Have I got News for You

Missed the show? Don't worry click here to watch it again

More Downloads!
Up for download now are;
Dawn French
click here to download
Jonathan Ross Appearance Nov 07
click here to download
Russell Brand Show Episodes
click here for all those downloads
Also want to see Russell's first ever appearance on Jonathan Ross back in May 2006
click here to download
Loose Women
click here to download
Have I Got News For You
click here to download

---
6 December 2007
An official video of the launch of Booky Wook and the mayhem at the signings! Take a look :)
Russell in Magazines!
Russell will be in this months HELLO magazine (11th Dec edition)
He will also feature in the next Heat Magazine 8th - 14th Dec issue!
TV & Downloads
A new section in the fansite under "Shows & Stuff".
Here you will find a list of all the shows Russell will be in over the next few months.

And loads of downloads of Russell including TV Shows, Interviews and Live Appearances! Take a gander it's fabulous! With thanks to kayleighb.
You will be most informed everytime there is a new show or download! We want to keep you up to date will Russell news!
Keep an eye out for more fabulous changes on the site :)
---
5 December 2007
Big Far Quiz of the Year is Back!
30th December on Channel 4 @ 9pm - 11.05pm
If last years is anything to go by, it's not one to miss!!
Hosted by Jimmy Carr with Jonathon Ross, Rob Brydon, Russell Brand, Noel Fielding, David Mitchell and Lily Allen.

St.Trinians Full Length trailer is out!
Click here to watch it features some bits of good auld Russ.
(click on videos)

Russell's appearance on Dawn French's show
Click here to download
(thanks to pilkipedia)
---
4 December 2007
Russell on TV
7 Dec - Have I got News for You BBC1 9pm
8 Dec - The Culture Show BBC2 7.10pm
a ten minute film of Russell's time at Oxford Union
8 Dec - Have I got News for You (extended version - 40mins) BBC2 19pm
9 Dec - Royal Variet Perfomance ITV1 8pm - 10.30pm
11 Dec - Blue Peter BBC1 5.00-5.25pm
Behind the scenes of St. Trinians movie. Russell may not appear in it, but hey theres a chance.
12 Dec - On The Road with Russell Brand BBC4 9pm
16 Dec - T4 Movie Special - St Trinians 9.55am - 10.30am
Exclusive show from the red carpet of the movie premier of St. Trinians.
With interviews from the cast
21 Dec - St. Trinians Release Date
---
25 November 2007
Interview - The Scotsmans
"Nothing is funny. We are all going to die. We'd better all have a laugh"
An excellent interview click here to read.


Russell in this weeks Heat Mag!
His life in pictures, 5 full length pages of photos!!!
Click here to see!
---
24 November 2007
"Doing Life" - Live Preview Clip of his new DVD


Click here to take a gander you wonderful beings!
---
21 November 2007
Doing LIfe - DVD & CD
Release Date: 26th November
'Filmed at the Hackney Empire during Russell Brands
sell-out tour 2007, Doing Life Live contains all the unique,
high octane and hilarious style that the UK's sexiest and
funniest comedian is famous for – this is a sensory
extravaganza that you just can't afford to miss.'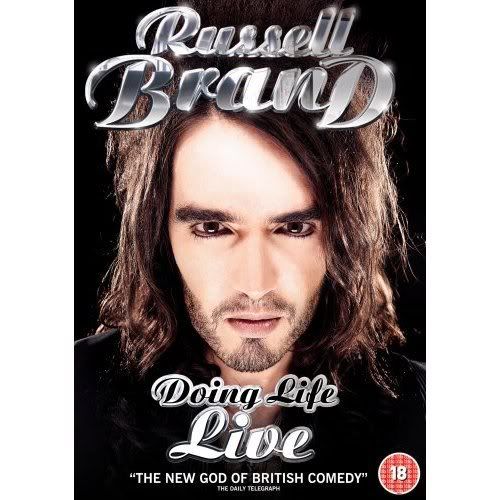 Extras:
Friday Night with Jonathan Ross Interview
The Russell Brand Show – exclusive behind the scene of Russell's BBC2 Music Radio Show
Backstage of the Hackney Empire

Exclusive Russell Brand Sketches
PS: Shhhhh don't tell anyone but *looks around* there's brilliant footage of Russell and Noel on the extras filmed when Noel covered for Matt on Radio 2.
---
20 November 2007
Downloadssssssss!
Here are a list of downloads of Russell's latest tv and radio appearances!
Includes some I've already put up.
BBC London Radio - Robert Elms show
Russell on Heart FM(London) - Jamie Theakston Breakfast Show 16/11/07
Virgin Radio Breakfast Show - Christian O'Connell 14/11/07
BBC Radio One - Chris Moyles Breakfast Show 14/11/07
Radio One Newsbeat 13/11/07 (short but sweet)
Russell on Women's Hour 13/11/07
Five Live - Victoria Derbyshire Show 13/11/07
Many thanks to japeneseheather
---
14 November
TV News
The Paul O'Grady Show

Russell will be appearing on the show tommorow 15th Nov.
Friday Night with Jonathan Ross

Russell will be appearing on Mr.Ross's show again this Friday the 16th Nov.
Always an entertaining interview when he appears on the show so don't miss it!!
Dawn French's Boys Who Do Comedy
Russell will be interviewed on the show Tuesday 4th December on BBC 4.
"The flamboyant star comes clean about how his desire to make
people laugh keeps his stage fright under control."
On the Road with Russell Brand
On Wednesday 13 Dec
9pm - 10pm
BBC Four
For info click here
Downloads

Russell on "Womens Hour" BBC Radio 4
Click here to download
Russell on Five Live
Click here to download
thanks to japaneseheather
My Booky Wook News
ITN Interview on YouTube - click here to watch
Booky Wook extract in The Guardian - click here to read
---
6 November 2007
Heaps and Heaps of News!
Right where to start off! Ah yes Book News
There has been a change to the schedule of the book signings in Essex.
I will put the entire listing of the signings in the Shows and Stuff Section of the site. Here's the change
Saturday 17th November
1pm Waterstone's
Lockwood Walk, The Liberty, Romford, Essex RM1 3RJ
Contact: 01708 747 482

4pm WaterstoneR17;s, Lakeside, Thurrock
Unit 69, Lakeside Shopping Centre"
GB - Thurrock RM20 2ZG
Tel: 01708 869858 / Fax: 01708 862787
Irons in the Fire

Russell also has a new book coming out soon about football and his love of West Ham due to the success of his Guardian Sports Column.
Released on 15 Nov
www.play.co.uk
Doing Life DVD - Released November 25th!
Also available off www.play.co.uk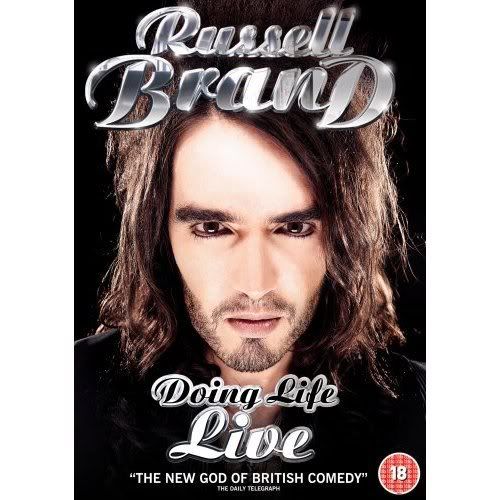 ---
24 October 2007
News Of The World
Russell was featured in NOTW the other day. But if you weren't one of the lucky ones to get your hands on it. Here's what beauty lies beyong page 49.
---
19 October 2007
Official Itinerary for Book Signings!
Weds 14th Nov Launch - Waterstone's, Piccadilly 10pm
Thurs 15th Nov - WH Smith, Kingston, Surrey 6pm
Friday 16th Nov - Waterstone's, Chelmsford, High St 12.30pm

Waterstone's, Bluewater, Greenhithe, Kent 5.30pm
Saturday 17th Nov - Tesco's , Romford, Essex 1pm
WH Smith Lakeside, Thurrock 4pm
Saturday 24th Nov - Eason's, O'Connell Street, Dublin 3pm
Saturday 1st Dec - Virgin, Arndale Centre, Manchester 4pm
Sunday 2nd Dec - WH Smith, Leeds 2pm


Saturday 8th Dec - Brighton Borders 4pm
Sunday 9th Dec - Bristol, Waterstone's, Union Galleries 2pm
---
18 October 2007
Newspaper and Magazine Week!
Talk to the Brand - an interview with Russell on aol.co.uk very good and witty,
click here to read.
Tv & Satellite Week 20 -26th Oct - a small interview along with the front cover shot!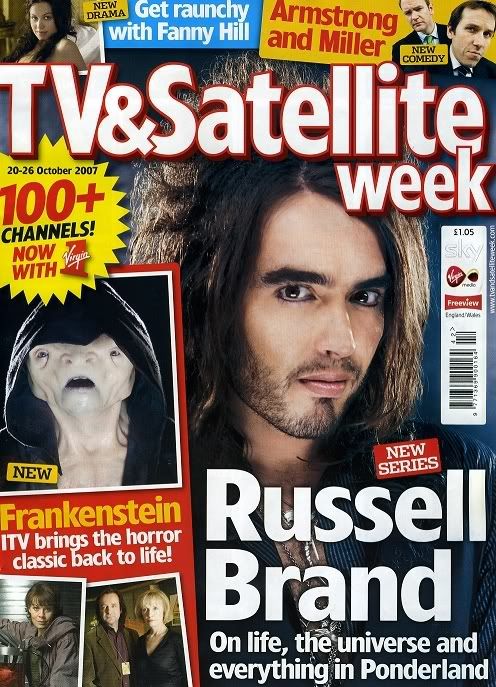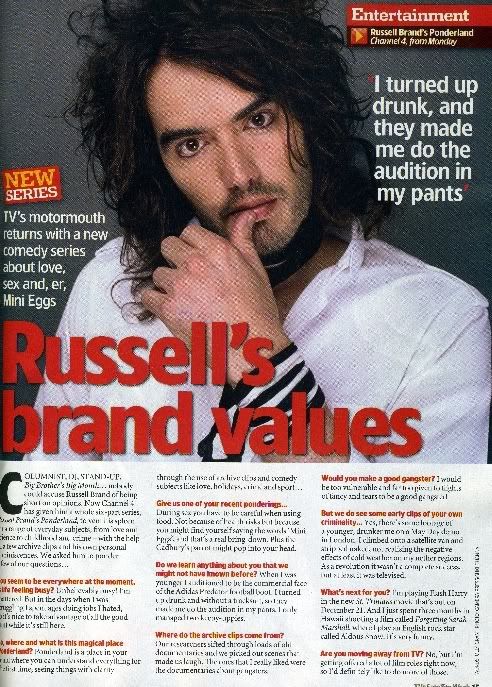 The Radio Times - Russel has written a piece in next weeks times (20 -26th Oct)
---
17 October 2007
More Gigs!
2 more gigs have been added to The Camden Roundhouse
14th December 07
15th December 07
Tickets go on sale @ 10am on Friday!
---
13 October 2007
On The Road With Russell Brand
Finally, look out for Russell on BBC4 this autumn, as he takes to the road in the footsteps of his literary hero Jack Kerouac and
his classic book in On The Road. The BBC press release describes the programme thusly:
"Jack Kerouac's literary classic, On The Road, is 50 years old this year.
The semi-autobiographical account of Kerouac's crazy,
hedonistic travels across America has inspired countless hipsters
and restless souls to "hit the road". One of them is Kerouac devotee
Russell Brand, and he embarks on his own coast-to-coast adventure
in homage to his literary hero. Quirky, spontaneous and mischievous,
Russell's stream-of-consciousness style is the comedic equivalent of
Kerouac's spontaneous prose. Travelling with his BBC Radio 2 colleague,
Matt Morgan, Russell visits many of Kerouac's old haunts and soaks up
the spirit of the Beat Generation in what will surely be an eventful journey.

The Russell Brand Library!
It shall be updated now with his articles from the past 2 Months!
Here however is the latest Guardian Football article!
Oct 6, 2007 - Whatever Next? Joe Cole on Stilts?

---
10 October 2007
Book Signings!
Russell's autobiography "Booky Wook" will be released 15th November
He will be doing book signings on the days of his tour dates! The details are tbc.
New DVD!
AND his new eagerly awaited dvd "Doing Life" will be release November 26th
Ponderland - Look out for his new tv series Ponderland on C4 from October 22nd
---
9 October 2007
New Stand-Up Dates
All shows start at 8pm – unless otherwise shown.

The dates are as follows:

23 November 2007 Friday Dublin Olympia 11pm show
01 December 2007 Saturday Manchester Apollo
02 December 2007 Sunday Bradford St Georges Hall
07 December 2007 Friday Croydon Fairfield Hall
08 December 2007 Saturday Brighton Dome
09 December 2007 Sunday Bristol Hippodrome
13 December 2007 Thursday Roundhouse Camden London - 9.30pm show.


Tickets go on sale on Friday 12th October 10am to the general public.
Loads of Updates from the Month to come.
---
2 Sept 2007
The Booky Wook

Russell's autobiography "My Booky Wook" is released 4th October 2007
Here's what the cover looks like. You can order online from Play.com and Amazon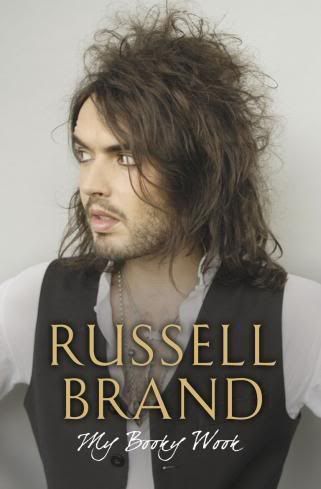 Russell has returned to writing this Autumn with 3 footie articles in The Guardian in August.
Aug 11 - This Year I'll Ride the Snake like a Soccer Shaman
Aug 18 - A Pitch-perfect Ending to a Sadly Familiar Song
Aug 25 - A Pledge is not Enough to make England Shine

Also Russell has written an article in The Sun about stockings and their importance!
Aug 31 - Please Dress to Thrill

Oh and a little reminder of Russells Film Career
Release dates of upcoming films are;

St. Trinians - 21st December
---
14 July 2007
The National Television Awards!

VOTE RUSSELL!
Russell is nominated for Most Popular Entertainment Presenter in this years National Television Awards.

Click here to go to the voting page. If you don't want to bother voting in other catogories just skip to Page 9.
You can only vote, so lets get voting now! Voting ends August 3rd
---
13 July 2007
Loads and loads of News! Sorry for the delay lads been ever so busy! But here we gooooooo!

Russell on Irish Radio
Apparently Russell may be making an appearance on Rick O'Shea's 2FM show between 2 - 5pm today!
http://www.rte.ie/2fm/rickoshea/
Live Earth!
Click here to download an interview with Russell on the Live Earth red carpet!
You can always watch clips of Russell presenting at the event on BBC Radio 2 website just click here
And you can listen again to Russell presenting Live Eath on the BBC Radio site.

Ponderland
A new comedy show that Russell will be hosting, taking the mickey out of different aspects of life.
Click here to read a small article in the Sun about it.

Click here To be in with a chance to be in the studio audience for the recording of this show in the MTV Studios, Camden
I will hopefully return with some photos for you all of Russell at Live Earth
---
4 July 2007
Russell's Latest Video Blog - from Hawaii
Click here to watch
Very very funny you must take a gander
---
1 July 2007
Loads of New Photos!
Right Here are the Latest ones from LA film shoot!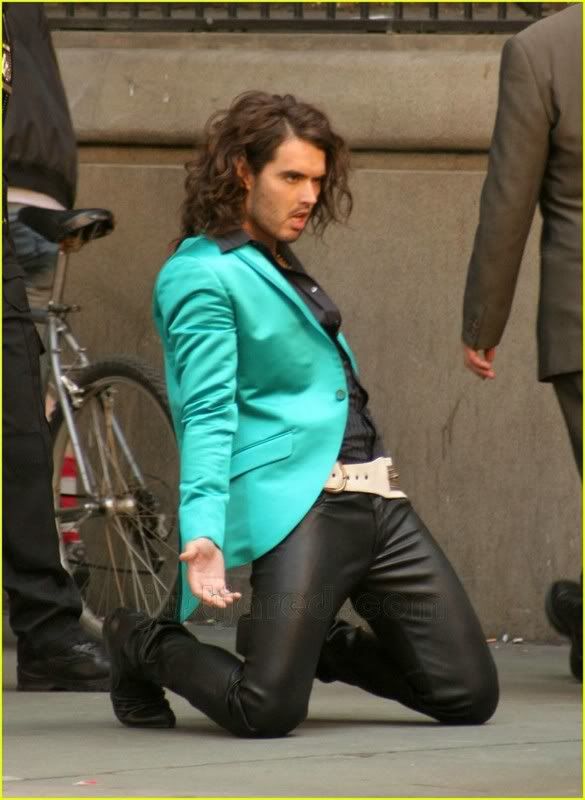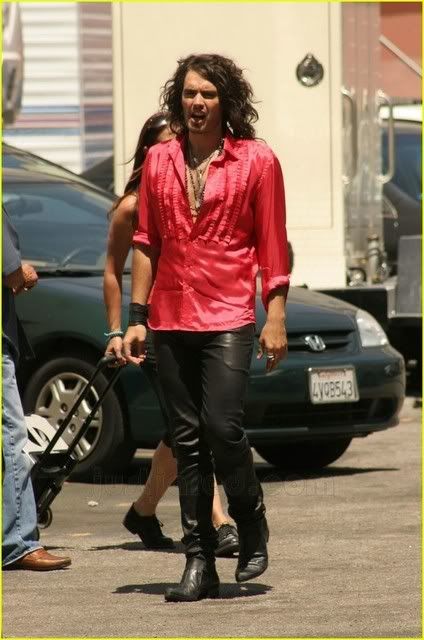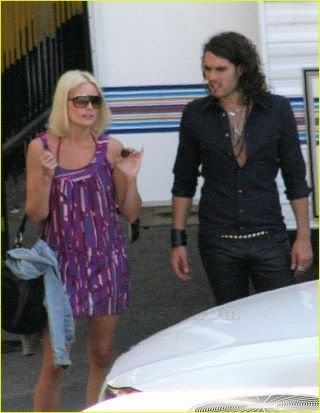 Some of the last ones from Hawaii!
And finally after Russell was awarded Sexiest Vegetarian some girls from PETA decided to pay him a visit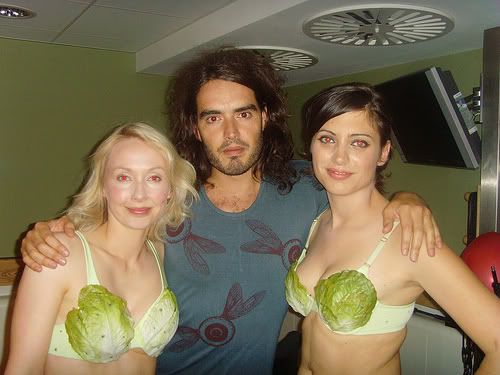 ---
26 June 2007
The name for Russell's summer tour has now been confirmed as "Russell Brand: Only Joking"
Russell on Jonathon Ross - Download
As some of you are aware Russell featured as a guest on Friday Night with Jonathon Ross last Friday. If you missed it or would like to see it again don't worry as you can download if you just click here
Thanks to KFA
Live Earth
Russell will be hosting a special show on Radio 2 with Live Earth, featuring live coverage and highlights of the concert on July 7.
Click here for more information
---
11 June 2007
Welcome Home Russell!

Russell has returned back to his humble abode at last, after his adventurous trip to Hawaii for the past couple of weeks!
New Guardian Article
Click here to read Russell latest footie article in The Guardian
The Russell Brand Radio Show Collection

Ever missed out on one of Russell's radio shows? Well fear not, help has arrived in the form of a new site which is collaborating with the fansite to help bring you all of Russell's shows. This is thanks to KFA who has dedicatedly put together a catologue of all the shows. Thanks to Sound Cake aswell for his time with uploading.
These ARE NOT podcasts so do not stop downloading them, they are ever so important and the best bits of the show aswell! The site is still under construction so some shows might not be up yet if you cannot find them click here
---
8 May 2007
Other Movies

Here are some more dates of movies that are coming out that feature Russell.
5th Oct 07 Penelope Russell has a small role to play in this alongside Christina Ricci

21st Dec 07 St. Trinians Russell plays Flash Harry alongside Colin Firth & Rupert Everett
8 May 2007

Movie Release

The movie that Russell has been filming in Hawaii Forgetting Sarah Marshall will be coming out on 30th May 2008
---
5 May 2007
Brand Gets Russed Up in Drama
An little bit in The Sun about Russell's part in new drama Cold Blood.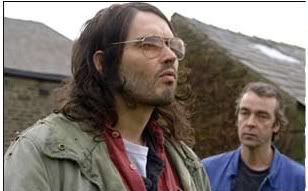 Don't miss this episode on June 20th on ITV.
Click here to read
More Hawaii Photoooos
Click here to see bigger versions of these photos.
---
23 May 2007
New Gig Announced (rescheduled gig).
Wed 25th July - Halifax
---
22nd May 2007
More Hawaii Pics!
Here are some absolutely wonderful photos of Russell in Hawaii, both filming on a gorgeous beach and playing football in his rather dashing green yfronts!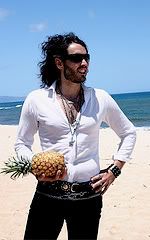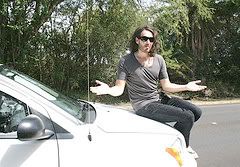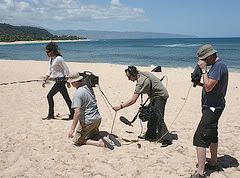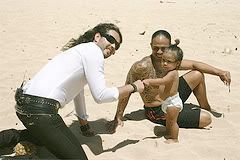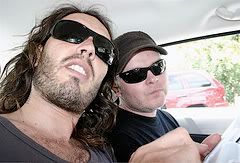 Click here to see more and bigger version of some.
---
19th May 2007
Another add to the Library
Russell's latest article in The Guardian - "I'm getting bored of baloney and tired of turtles"
Click here to read
---
15th May 2007
The Russell Brand Library

A new section has been added to the fansite. It has all the articles Russell's has written himself in newspapers, mags etc. Go check it out, you never know what you might find!
---
11th May 2007
New Tour Dates Added!
2 new dates have been added to Russell's stand-up summer tour.
Saturday 14th July - Hull
Sunday 29th July - Woking
You better book quick, tickets went on sale today!
Russell declares his love to Noel Gallagher!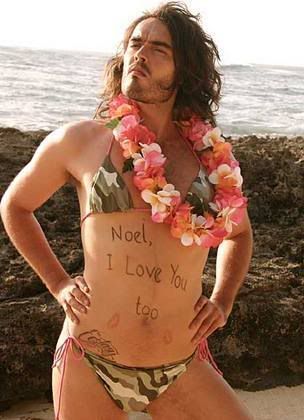 ---
9th May 2007
BB According to Russell Brand
On 25th May on E4 at 11.05pm
The former front man of Big Brother's Big Mouth, Russell Brand, takes a surreal, sideways look at Big Brother through the ages. In this one-hour special, Brand reveals the "truth" behind the phenomenon that has been Big Brother for the past eight years.
Cold Blood - New 3 part tv series
Russell will be part of this series along with Corrie star Charlie Stubbs.
He will be playing obsessive stalker of Jake.
Click here to read a short article in the The Sun about it
New Hawaii Photos!!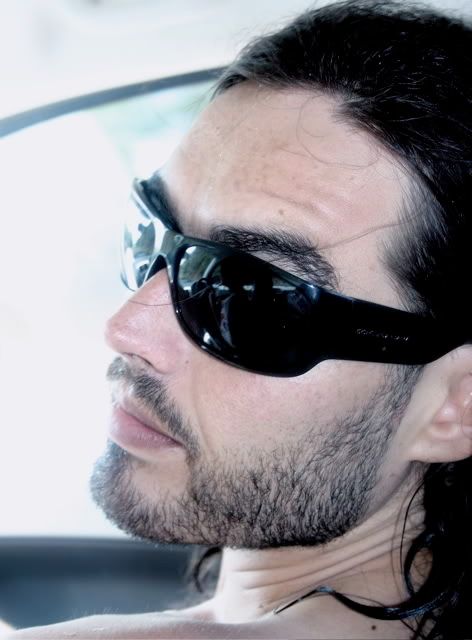 ---
2nd May 2007
Live Photos!
Lindsay an avid fan and member of the fansite has started up her own website of all her photos of Russell. She attends almost all of his gigs, been on his radio show and met him numerous times.
I would recommend anyone to go visit and take a gander as they are excellent quality.
I will also update you all every time Lindsay adds the latest gig photos!
Go here http://www.freewebs.com/russellbrandphotos/ to view her site
---
1st May 2007
A message from Russell!
Dear Friend,
I feel I've abused this relationship in many ways and that's gonna change. From now on we're going to hang out together and occassionally make love (you on top). Until then would you be so kind as to download my podcast off Uk ITunes, I'm keen to recapture the number 1 spot and for God's sake come and see me on tour, check my myspace page, fansite or russellbrand.tv for more details.
Big Kiss you adorable floosie.
Russell
---
27th April 2007
More Hawaii Photos!
Here are more lovely stunning photos of our dear Russ on his film set for his movie with some co-stars.
I will be adding a new section in the Gallery just for the Hawaii photos now that there are a good few of them.
Click here to view them on the BBC site
Regarder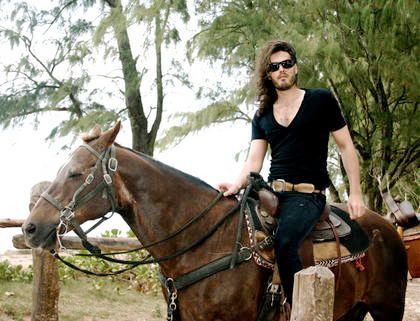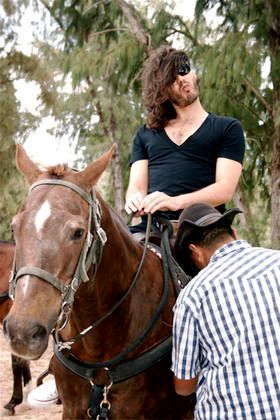 ---
25th April 2007
Russell's New Book!
The release date for Russell's new book "Russell Brand Memoir" has been unveiled for the 04/10/07
To pre-order the book go to Play.com
Hawaii Malaise
Russell has been over in Hawaii the last little while now so he's a written a little article for us in The Guardian about him missing out on his favourite team winning while he was away!
Click here to read the article
Hawaii Photos!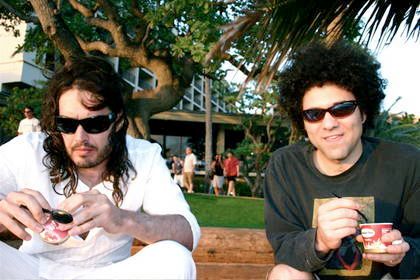 To see the rest of the photos from Hawaii go to the Photos section on the fansite under BBC Radio
oh and a little treat
---
18th April 2007
Aloha Russell
Russell's all lonely in Hawaii and needs some cheering up.
If you make your own videos using a video camera we'll send them to him and feature the best ones on his BBC Radio 2 blog!
We're also willing to help film the listeners with the wackiest and weirdest ideas for messages to Russell - so get in touch now!
The addres you need is This email address is being protected from spam bots, you need Javascript enabled to view it
For further instructions click here
---
18th April 2007

Q Magazine

Russell is featured in the latest issue of Q Magazine with an extensive interview and photos!
So get your hands on it before it's gone

The Rest of the scans will be put in the Gallery. There's 4 in total.
Thanks to inkinpink for them.
Small snippet from The Times.

Thanks to Sporks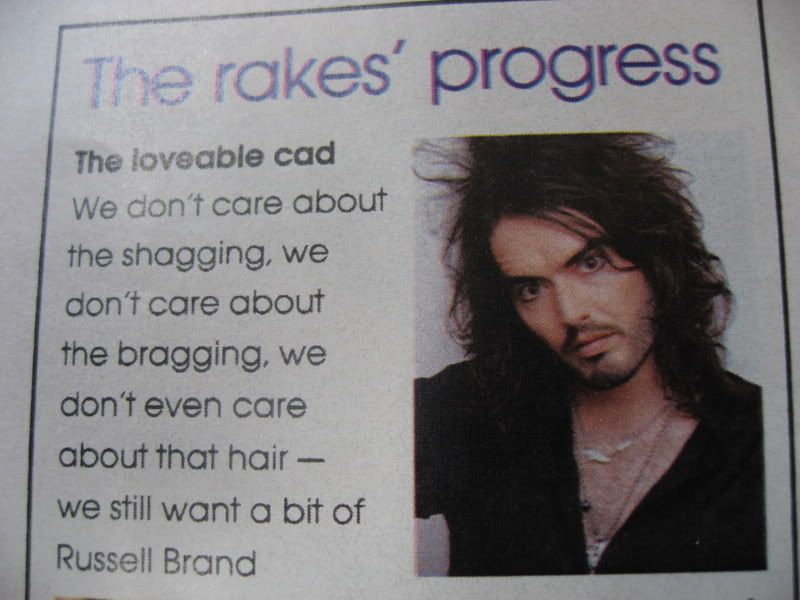 ---
17th April 2007

Video Blog

For those of you who are unaware Russell does a Video Blog for BBC Radio 2 that are put up on youtube.com by the station. Which include him babbling on about all sorts of shananigans!

To view the most recent one click here

For links to download the blog go to the forum click here


Podcast!

Don't forget to download Russell's podcast on Itunes and make sure it gets back to Number 1 where it belongs no doubt! G'wan do it will ya! Russell will thank you for it!
---
17th April 2007
Russell has annouced new dates for his upcoming Summer tour:
28th Jun - Basingtoke Anvil
29th Jun - Hastings White Rock Theatre
30th Jun - Swansea Grand Theatre
1st Jul - Cardiff St. Davids Hall*
6th Jul - Stoke Victoria Hall
7th Jul - Halifax Victoria Theatre
8th Jul - Liverpool Aintree Pavilion
11th Jul - Sunderland Empire
12th Jul - Middlesbrough Town Hall
13th Jul - Blackpool Opera House
15th Jul - Peterborough Broadway*
16th Jul - Cambridge Corn Exchange*
26th Jul - Isle of Man Villa Marina
27th Jul - National Stadium - Dublin
30th Jul - Bournemouth Pavillion Theatre

For more details and how to purchase tickets go to the "Gigs" section of the fansite.

*postponed dates from previous tour
---
26th March 2007
Russell in St. Trinians
The Sun have written a little snippet on Russell's new role in St. Trinians while shooting the movie along with a classy new photo of Russell in costume!
Click here to read more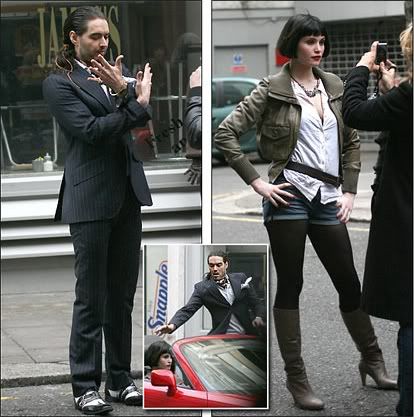 ---
24th March 2007
Family Detective: Russell Brand
The Telegraph have done an article on Russell tracing back through his roots and family tree.
Click here to read the article
---
23rd March 2007

Russell wins Top Performer Gong

Russell has scooped an award for Best UK Performer in a non-acting role.
He got the gong for The Russell Brand Show and Russell Brand's Got Issues, both on Channel 4, as well as Big Brother's Big Mouth and his MTV show.
Click here to read more
---
18th March 2007
Channel 4's 100 Greatest Stand-Ups

Congratulations to Russell who was voted no.69 in the countdown! Thanks to all your votes over the last year!
---
10th March 2007
Russell Cast in St.Trinians
Russell along with Colin Firth, Emily Watson and Rupert Everett are set to star in "St. Trinians", Ealing Studios' new version of the classic British comedy franchise that spawned several popular movies in the 1950's and 1960's.
Click here to read more
---