The Russell Brand Library
If you're a fan of Russell's writing, his words, his view, his wisdom. You've come to the right place.
We've comprised a list of all the articles Russell has written for newspapers, mags etc. So you don't have to go searching the web anymore to locate any of his material.
Thanks to Brandy for comprising this list, she and I will keep you up to date with all his latest schtufff!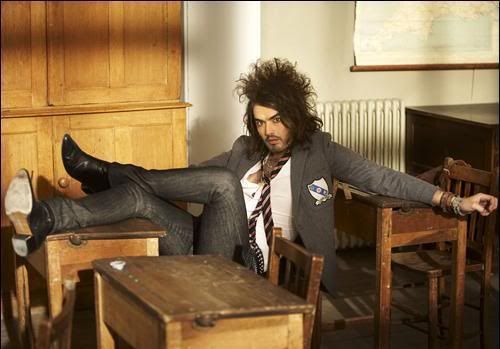 Heat
20 Nov, 2007 - My Life in Pictures
Click here
The Guardian - His Football Column
June 17, 2006 - In Bed or Watching the World Cup in the Pub - It Pays to Keep Your Mouth Shut
Click here
June 24, 2006 - It's Necessity and Dread Time for England
Click here
July 1, 2006 - Let Teary Pain turn to Bongo-Playing Joy
Click here
July 8, 2006 - If Defeat is our Destiny, I Need a Divorce
Click here
Aug 15, 2006 - I Must Live By My Code
Click here
Sept 16, 2006 - Bog-Standard Banter Proved My Fan Credentials
Click here
Sept 23, 2006 - Not Waving but Drowing in a Sea of Bile
Click here
Sept 30, 2006 - Che's Clarion Call to the Boleyn: On Your Feet Lads
Click here
Oct 7, 2006 - It's Yesterday One More with Old Father Tel
Click here


Oct 14, 2006 - McClaren is a Master Technician... Oh No He Isn't!
Click here
Oct 21, 2006 - Football is Dangerous, So Lets Keep of the Grass
Click here
Oct 28, 2006 - The Geezer-Suffragette Stands Up to be Counted
Click here
Nov 4, 2006 - Noel Invokes the Christmas Spirit of the Terraces
Click here
Nov 11, 2006 - Chants Would be a Fine Thing If They Weren't So Rude
Click here
Nov 18, 2006 - Celestial Troubadour or Gay Disco Icon? You Decide
Click here
Nov 25, 2006 - Magnusson's Spark Will Pull Upton Park from the Dark
Click here
Dec 2, 2006 - How to Ruck in Green Street, Courtesy of Enid Blyton
Click here
Dec 9, 2006 - Utopia, Unity and Hammers' Homoerotic Song
Click here
Dec 16, 2006 - Pardew is scrambled and Curbishley is poached - another week in the life of West Ham's Golden Egg
Click here
Dec 23, 2006 - Magic Win but Curbs to our Enthusiasm Remain
Click here
Jan 6, 2007 - Death is Beautiful but Wright-Phillips Means Life
Click here
Jan 13, 2007 - Like and Old Dog Looking for a Place to Die
Click here
Jan 20, 2007 - From Poll to Poll: My Week of Controversy
Click here
Jan 27, 2007 - I'm Happy to do a Sex Dance for Luis Boa Morte
Click here
Feb 3, 2007 - Relegation Rants are West Ham's Song of Experience
Click here
Feb 10, 2007 - Trouble by Belushi's Ghost and England
Click here
Feb 17, 2007 - Hammers Impervious to Gerbils and Mysticism
Click here
Feb 24, 2007 - Bellamy's Mood Swings Reveal Artistic Temperament
Click here
Mar 3, 2007 - It's Time to Face Facts. We Are All Doomed
Click here
Mar 17, 2007 - The Night I Slept Next to David Beckham
Click here
Mar 24, 2007 - Bring Back Billie, That's All Wembley Needs Now
Click here
Mar 31, 2007 - I Sympathise with McClare - But He Is Crap
Click here
Apr 7, 2007 - I Dangled Sex Aids through Riot Van Windows
Click here
Apr 21, 2007 - Brutal Laptop Reality Destroys My Island Fantasy
Click here
Apr 27, 2007 - It's Not Natural, But by Jingoism, I love Chelsea
Click here
May 5, 2007 - Daaaaaaave Whelan, is a Winner, is a Winner
Click here
May 12, 2007 - Cooing over Carlos, Has Made Me Feel 15 Again
Click here
May 19, 2007 - I'm Getting Bored of Baloney and Tired of Turtles
Click here
Jun 9, 2007 - Is Beckham Really the Equal of Sir Cliff Richard?
Click here
Observer Music Monthly (The Guardian)
Aug 13, 2006 - I'm With The Band (meets Keith Richards)
Click here
The Times
Jan 8, 2007 - I have a Pathological need to Perform
Click here